4 Reasons Why Managed IT Is Better Than In-House IT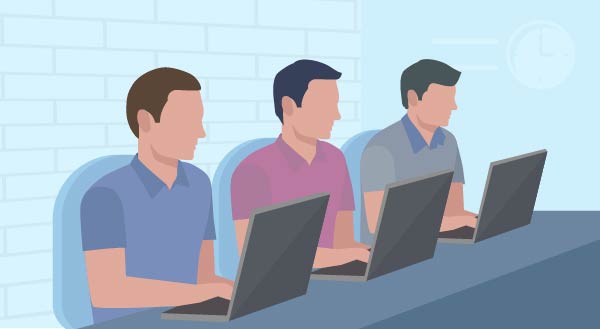 Hiring an in-house IT specialist to look after your network and set them up with a pleasant office down the hall is tempting, but is it the right move for your business? For most firms, finding methods to save money while increasing profits is a constant goal. Expanding your staff may be important, but in many cases, it's just a waste of money that leaves you with high-paid personnel twiddling their thumbs for hours on end. We propose Managed IT services to small and medium-sized businesses that want the best of both worlds.
You may think of it this way: Managed IT provides you with a team of highly qualified technicians and network specialists while saving you a lot of money. Naturally, you would prefer to see your IT budget working to support your company's growth while keeping costs as low as feasible. As a result of this, we don't merely manage and repair your systems, but we also work with you to ensure that your IT boosts production and efficiency. Consider these aspects before deciding if in-house IT assistance is right for you:
Availability: While most employees work Monday through Friday, what happens if an issue arises after hours? In the middle of the night, your in-house technician will not like being called in for urgent repairs. You can expect a large contract renegotiation at 9 am if they don't answer the phone (or don't hear it). As a Managed IT company, we anticipate issues beyond business hours and have professionals on call. We prioritize getting your systems up and running as soon as possible since we recognize that every minute of downtime affects your revenue and your company's reputation. Additionally, with our Managed IT, these types of calamities are far less likely to occur because we are continually monitoring and addressing problems before they arise.
Total cost: Having an in-house technician may have appealed to you because of the expense. Nevertheless, even if you can afford to pay them less per hour, you will incur additional expenses such as recruitment charges, training costs, on-going training costs, health care costs, and retirement costs. An in-house technician might quickly consume your IT budget, leaving you scurrying to fill in the gaps you didn't anticipate. Upgrades are delayed, opportunities are wasted, and IT costs spiral out of control. Managed IT, on the other hand, comes with a set monthly fee that gives you access to a wide range of software and technology experts.
Ongoing Training: A technician's ongoing training costs can quickly mount, even if you ignore the fact that they'll often be absent for weeks at a time, which leaves you scurrying to cover for their absence. As a salaried technician, you'll be responsible for all training and certification fees as well as travel expenses to industry conventions and trade shows. In order to better serve you, we invest in ourselves by staying up-to-date, qualified, and trained in new technologies. Each year, we attend many industry-related conferences at our own expense.
Different goals: For most employees, a raise in pay is the aim, and many may move jobs in order to attain it. Often, a salaried tech will take advantage of the training you've provided to hunt for the first opportunity to depart and earn more money. With an average of just three years in each profession, this is the norm in today's modern world. This is a bad ROI for your company, considering how much it cost you to acquire, train and upskill your technician. We try to maintain you as a customer for as long as we can, and that's all we care about!
Profit and expertise must be balanced in order for your firm to succeed. Managed IT gives you access to a team of experts who are committed to your success, and you can rest assured that they'll always be there when you need them. As a team, we collaborate closely with you to ensure that you receive the finest possible service and that you are well-protected from potentially expensive calamities. Choosing Managed IT over an in-house professional is a no-brainer, and we'd be happy to show you why we are the best Managed IT Service Provider in Milwaukee.
Talk to us about Managed IT for your business. Call at 262.912.6404 or send an email at info@powerfulitsystems.net